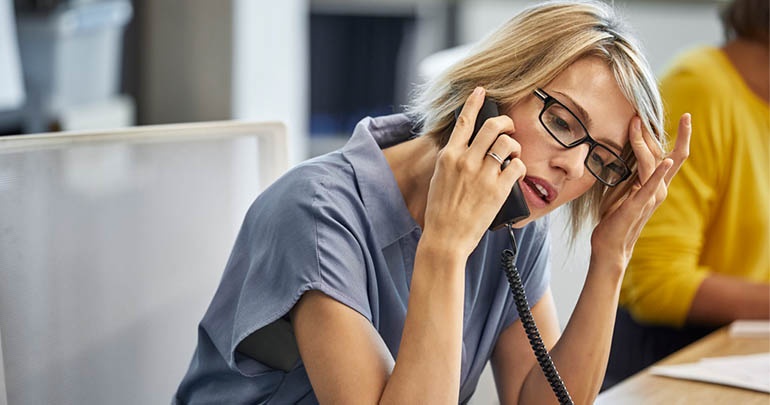 No matter whether you've just started using the Net Promoter Score (NPS) or you're an old hat at it, approaching your most at-risk customers (MARCs) is not always easy. However, despite their negative customer feedback, your MARCs are vital to improving your business, and should never be overlooked.
Read more: Grow your business with NPS [Free Guide]
To help you get the most out of your conversations with your MARCs, here are 5 tips to get you started:
1. Call or email—which is better?
It depends on your business and your customer. If you're an international business with overseas customers in different time zones, it may not always be viable to call.
However, as a broad-sweeping rule, calling is better. Where a phone call can convey tone and mood, emails do not—and it can lead to unintended grievances.
2. Act fast
Regardless of which platform you use to measure NPS, you should have a system in place to notify you when your survey uncovers a MARC.
In Customer Monitor, you can nominate this notification to go to a specific email address.
Once you've received this notification, it's vital to get in touch with the MARC within 3 working days. Waiting a week not only means your NPS survey is no longer fresh in your MARC's mind, but it shows a lack of interest on your part, which can further damage your brand in the eyes of that customer.
This is especially important when considering social media. It is where most customers take their complaints these days and negative talk can spread lightening-fast.
Read: 4 tips for prioritising your customers with Net Promoter Score
Tip: Develop a strong social media strategy to monitor and respond to these kinds of comments.
3. Keep it natural
When you get in touch with an unhappy customer, keep the conversation natural, rather than scripted. Following a cookie-cutter script for every phone call is a sure-fire way to irritate your MARC even further. If you have a script, it should serve as a reference, not a document to recite word-for-word.
Tip: Don't over promise when you talk through your MARC's pain points. For example, promising that you'll implement changes to fix an issue next week, before knowing how long it will really take to resolve.
Read:

The 3 C's of dealing with customer complaints
4. Listen and understand
When it comes to listening to your MARCs, understand first, console second. Simply hearing them out can usually ease the pain. Most customers are looking for acknowledgement, and showing genuine compassion and empathy goes a long way.
Important! Always thank them for their time, their feedback and their honesty.
Tip: Do you have a system in place to measure the sentiment—the key themes identified in your NPS survey—of your customers? If not, this is something worth considering. This information is hugely useful for creating long-term retention strategies and reducing customer churn. Keeping your existing customers loyal is more cost efficient than acquiring new customers. The stats say it all: a 5 per cent lift in customer retention can result in a profit increase as high as 95 per cent!
5. Keep track of your MARCs in the process
Keep tabs on what stage your MARCs are at. Are they waiting contact? Have they been contacted but not responded? Are they resolved? This is particularly important if more than one person is contacting your MARCs.
We recommend working in a team to contact MARCs. Depending on the issue, you team can determine what action (if any) needs to be taken, and if any escalation is needed (i.e. liaising with another department or manager).
Tip: You might opt to use KPIs for your team to monitor their progress. If so, your KPIs should be a balance between NPS score improvement and volume resolutions. You may also choose to include speed of response as well.
In summary
While no one likes to receive negative feedback, remember that your MARCs have actually taken the time to respond to your survey. Most unhappy customers don't. With their feedback, you can create a constructive feedback loop to identify weaknesses in your business—a possibly solutions too. Welcome it, learn from it and use it to improve!
Want to dial up your NPS and your business? Download our free guide Grow your business with NPS.