Short of new leads and tracking your sales, it can be difficult to understand how effective your brand's marketing activity is at not only building general awareness but also influencing customers' path-to-purchase. Proving the worth and return of such activities is a challenge faced by many marketers, but thankfully one brand health tracking can help address.
"Proving return-on-investment is challenging for many marketers. Many get overwhelmed by the sheer number of KPIs available that they lose sight of which ones to measure," says Damian Bennett, Senior Business Director at Perceptive. "Tracking overall brand health not only makes it a lot easier to prove ROI but it also allows you to do it in the context of your competitors."
Here's how.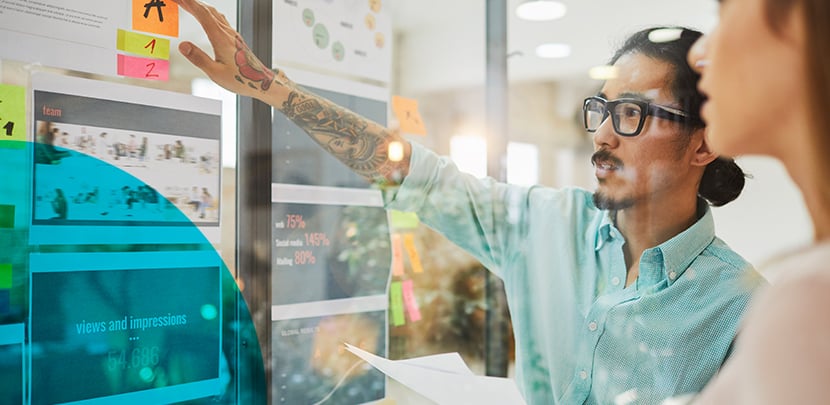 Related content: Learn how to track, measure and improve your brand health in our free online guide.
Establish a baseline
The first step in using brand tracking to measure marketing performance is to establish a baseline. Ideally, this is before you launch any big campaigns so you can gauge the performance and perception of your brand in relation to your key competitors. This is your baseline. Without it, it is difficult to definitively show the impact a campaign has had on brand health (both on you and your key competitors).
Run brand health tracking after a campaign
As your campaign begins to wind down and the bulk of media spend has occurred, a second round of brand health tracking will determine the impact your marketing has had on awareness, consideration and usage levels (or their tailored equivalents). You can also get a measure of how associations and perceptions of your brand have changed since your baseline readings. Post-campaign brand tracking can also help:
Refine and improve the messaging and creative of future campaigns.
Assess the impact a campaign has at various stages of both your brand and your competitors' marketing funnels.
Determine the impact of a campaign on each of your marketing personas or customer segments (if you have them).
Note: this second round of brand tracking requires a fresh sample of responders; you don't want to use the same people who provided your brand's baseline.
"Undertaking regular brand tracking is not only an efficient way to understand how well a campaign has performed, it also informs how you can improve your future marketing activity," says Damian.
Compare and run regularly
Brand tracking is most effective when it is part of an ongoing programme. It is least effective when it is treated as a once-off, tick-box exercise. Markets, technologies, and customer needs change and evolve—often rapidly as Covid-19 has shown us. To keep up with where your market is at—and to understand the impact of competitor activity on your brand—tracking needs to be regular.
Moreover, as the programme matures, you'll gain greater insights into your various marketing activities (both yours and your competitors!) and be able to form strategic plans to lift positive elements that are working for your brand and remove elements that are not. This will allow you to identify and hero elements that make your brand stand out from the crowd.
How often should I run brand tracking?
It depends on how active your market is and the number of locations you operate in. For example, in the quick service restaurant category, new campaigns and offers enter the market monthly, whereas, in the case of insurance, a new campaign may only launch every six months. As a guide, we recommend at least twice a year to maintain an up-to-date baseline. As a maximum, we tend to see diminishing returns if brand tracking is more than monthly.
Learn how to track, measure and improve your brand health with our free ebook! Download your copy here.