2020 saw working from home fast become part of the new normal, shifting from roughly 5 per cent of employees working remotely to between 20 to 30 per cent[1] and 50 per cent of employees stating they don't want to go back to the office full-time. However, for all the reported productivity benefits of working from home, many remote workers experience feelings of isolation, loneliness and burnout.
To take care of the well-being of your remote employees here are six considerations to keep in mind.
Related content: The Manager's Guide to Workplace Well-being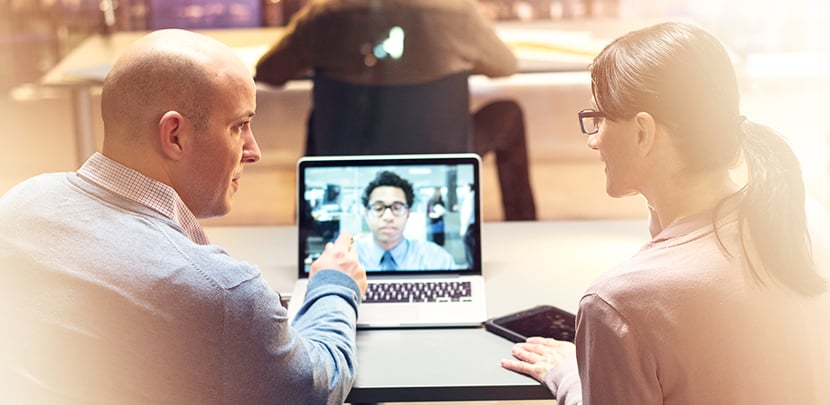 1. Establish boundaries
Remote workers don't get the benefit of a commute to break up their home and working life, making it easy to fall into the trap of home and work blurring together. In one study, 29% of telecommuting respondents said they had a hard time maintaining a healthy work-life balance.
Having personal time means your staff not only have better work-life balance but are generally less stressed, better rested and at less risk of burning out. For those with families, poor work-life balance can also take a toll. In short, work and home boundaries are crucial for the well-being of remote workers. This is why we recommend establishing a 7am to 7pm rule where both you and your remote employees agree not to contact each other outside these hours. Similarly, keep an eye out for workers who are struggling to separate work and home life, such as sending emails and making phone calls after hours. For staff who experience this, it is important to help them understand the role home/personal time has on their well-being and how an imbalance can impact them both professionally and personally.
Tip: Encourage staff to keep a routine, such as dressing and presenting themselves as if they were going into the office.
2. Encourage regular breaks
Regular breaks increase productivity, performance, creativity and your ability to process and retain information. One study has found that even brief diversions from a task can significantly increase our ability to focus on that task over a prolonged period. It also found that forcing ourselves to "power through" leads to a significant loss of vigilance and attention given to the task. In short: we get sloppy—not through a lack of effort or willpower but because it's how our brains are wired.
"The brain gradually stops registering a sight, sound or feeling if that stimulus remains constant over time. For example, most people are not aware of the sensation of clothing touching their skin. The body becomes "habituated" to the feeling and the stimulus no longer registers in any meaningful way in the brain."— Alejandro Lleras[2]
In other words, when we give our attention to a task, the focus we give it slowly declines over time as our brain starts to desensitise it. However, by taking regular breaks, we can reset our focus and re-stimulate our brains.
So, the question remains, how often and how long should our breaks be to optimise our focus and performance? There are three schools of thought on this:
The Pozen "pulse and pause", which recommends taking a 15-minute break every 75 to 90 minutes.
The Draugiem Group's experiment, which involves a 52-minute sprint and 17-minute break.
The Pomodoro technique, which involves shorter bursts of 25-minutes followed by a 5-minute break.[3]
Ultimately, there is no "right" method but simply one that works for you and your remote employee(s). What is important is to support the ability of your remote employees to take breaks. There are a variety of apps you can use to remind workers they are overdue a timeout, such as Time Out and Break Timer.
Tip: Remote working is highly flexible, encourage staff to embrace it with a longer lunch break if it suits their work-life schedule. This can give them the opportunity to run errands, go to the gym or simply be away from the screen for a longer period.
Related content:

 Setting up your company to work from home? Here are 4 must-haves
3. Keep up the conversation
In Buffer's 2020 State of Remote Work report, the two biggest struggles for remote workers were collaboration and communication (20 per cent) and loneliness (20 per cent). What these insights show is that being connected is critically important for remote workers—both from a functional and social point of view. These challenges are felt most among remote workers who are part of teams that are a mix of remote and in-office staff.
The good news is that 61% of business leaders have implemented more frequent manager-employee check-ins since working from home became part of the new normal[4]. However, there is more you can do to ensure your remote workers can communicate, collaborate, and socialise to perform their best.
This can include:
Ensuring your technology is set up to support remote workers. Failing to have proper audio and visual technology means your remote workers are excluded from important conversations. Businesses need to put pressure on their IT department/service to make sure the technology in use is fit for purpose.
Ensuring remote workers have access to support services, such as IT assistance.
Ensuring your remote workers have access to the materials/tools/equipment they need to work.
Not downplaying remote meetings—be punctual; treat them with the same importance as you would a face-to-face meeting.
Hosting virtual social events, such as online quizzes and games.
Run a virtual water cooler.
4. Dedicated working space
The rapid shift to working from home saw many employees working from the kitchen table or less-than-ideal office setups, which made for poor working environments both from an ergonomics and performance perspective. While the initial rush to adapt has passed, many remote employees could benefit from their employers helping them establish a better working space.
Whether that's allowing them to take a desk, chair or computer screen from the office or giving them a stipend to purchase the equipment they need. Such support can go a long way to increasing your remote employees' comfort while working.
A stipend can also help cover your remote employees' internet and power bill. Reports in Australia showed that many workers forced into remote working due to Covid-19 were unable to cover their increased energy bills. For many, helping to cover the extra power or internet requirements can ease the financial stress working from home may cause, particularly in cases where it isn't voluntary.
Tip: Take into consideration the environment your remote employees will be working in. If they are in a flatting or share house situation, they may be confined to a bedroom rather than having a dedicated working space in their home. Help them find solutions to optimise the space they have and encourage them to take regular breaks.
5. Focus on mental health
Remote workers are particularly susceptible to burnout: research has found they work three weeks (16.8 days) more per year than their in-office counterparts. The increased stress of this workload often sees remote employees needing to take a sick day for their mental well-being.
While mental health days are a good first measure to help address burnout in remote workers, they are a reactionary measure that doesn't address the underlying reasons for your employee's low mental health. By focusing on solutions to the stressors that lead to burnout—high workload/job demands, inefficiencies, lack of resources, low flexibility, poor workplace culture and values, lack of workplace community and social support, and poor work-life integration[5]—you can also incorporate preventative measures that will help both your remote and in-office workers in the long term.
Read more: 

Employee burnout and how to prevent it
Tip: If your remote workers have a few meeting-free hours, encourage them to change up where they work, such as moving outside or working from a local café. A simple change of scene can help refresh and invigorate.
---
Employees are stressed, overloaded and struggling to balance work and life demands. But it doesn't have to be this way. Help your employees thrive in the new normal with our Manager's Guide to Workplace Well-being.
Footnotes
[1] Gad Levanon, 2020. Remote Work: The Biggest Legacy of Covid-19. Forbes, forbes.com, 23 November 2020.
[2] Science Daily. 2011. Brief diversions vastly improve focus, researchers find, sciencedaily.com
[3] Stephanie Vozza, 2017. This is how many minutes of breaks you need each day. Fast Company, fastcompany.com, 31 October 2017.
[4] Gartner. 2020. Gartner Survey Reveals 82% of Company Leaders Plan to Allow Employees to Work Remotely Some of the Time, gartner.com
[5] Stephen J. Swensen, and Tait D. Shanafelt. "Drivers of Burnout and Engagement", Mayo Clinic Strategies to Reduce Burnout: 12 Actions to Create the Ideal Workplace, Oxford University Press, 2020.