Want to know how well your hotel business is performing against its peers? Here's everything you need to know about comparing (and improving) your NPS in the hotel industry.
Looking for more general information? Check out our blog on 

What is a good NPS score

.
Hotel NPS score bands*
| | |
| --- | --- |
| 5–15 | Average |
| <30 | Strong |
| >40 | Extremely strong |
*These ranges are based upon Perceptive research.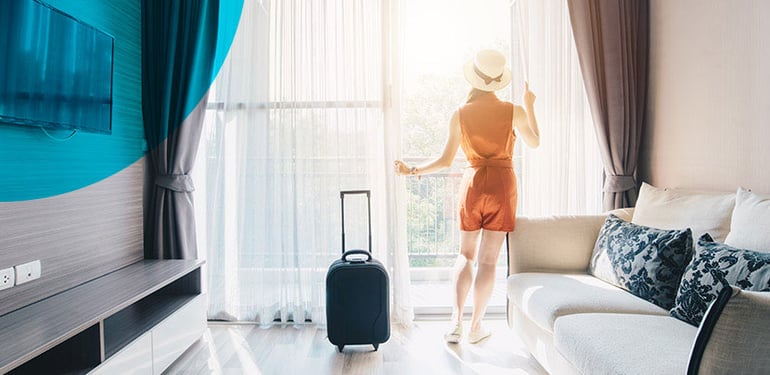 What if my score isn't up to standard?
An underperforming NPS score is simply an opportunity for improvement. Where that improvement may lie is a question only you—or rather, your audience—can answer. Our research may have some insights to get you started, however.
The most common complaints among hotel detractors include:
Lack of value for money,
Dated decor,
Poor customer service,
Poor room hygiene,
Poor facilities,
Uncomfortable beds, and,
Lack of WiFi.
One particularly important factor to note, is that a significant number of hotel detractors wouldn't recommend a hotel simply because it didn't wow them. That is, their stay was adequate, but unexceptional—and certainly not good enough to recommend the hotel to friends and family.
How to achieve a better NPS as a hotel owner or manager
There are more and more competitors in the hospitality space every day through services like AirBnB. Being average is simply not good enough.
Plugging a hotel's weaknesses will help stem the tide of detractors, but will not reverse it. There must be at least one thing that customers can point to and say that this is more than they expected.
You can find guidance as to what this factor might be in your NPS commentary. Your customer comments and suggestions for improvement (which should come as part of your NPS programme) can help drive your strategy and work to push your hotel above the industry average—and beyond.
Summary
As long as your NPS is above 5, your hotel business is meeting the average.
But as discussed, the average isn't good enough for a hotel that wants to be successful.
Pay attention to your customer comments. Give them something to be excited about. Watch your NPS grow.
---
To get up-to-date data on your industry benchmarks, download our latest NPS benchmark releases for Australia and New Zealand.