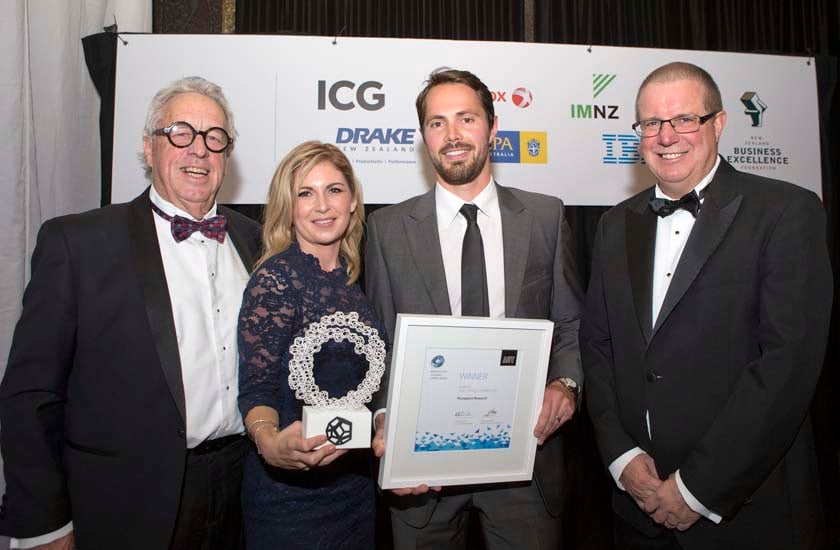 We're excited to share the news that Perceptive Research has won the ICG Business Turnover Sales & Marketing Award (in the <$5M category) at the 2015 AUT Excellence in Business Support Awards, New Zealand.
The winners were announced at a celebratory gala dinner held at the Langham Hotel in Auckland, on 29 October 2015.
The Awards are the only national performance measure for New Zealand organisations providing business support. The applications are judged by evaluators from the AUT Business School as overseen by the New Zealand Business Excellence Foundation.
Perceptive Research won based on the following evaluation by the judges:
"Perceptive Research is not just a research company but also a consultancy where extensive consultation with clients helps to identify key goals of research. The client's problem is defined and the necessary data is collected and presented in a format that allows strategic decisions to be made. Key tools are also provided so the client can easily monitor their performance (and therefore ROI).
Perceptive has outstanding client retention rates and a Net Promoter Score which is considered 'world-class'. CEO, Chris Pescott is an exceptional leader with a clear goal for Perceptive to be the best company in the business research market." (Category evaluator Russell Harray, School Liaison Manager for the AUT Faculty of Business and Law).
"These Awards are important to AUT because they allow us to recognise the best providers of business support in New Zealand. Business support organisations and individuals make a significant but often unseen contribution to the performance of businesses, helping behind the scenes with everything from dispute resolution, research and legal services to security, compliance and logistics. This celebration of the business support sector is a great opportunity for the AUT Business and Law Schools to join with the business community and celebrate excellence." (AUT Dean of Business and Law, Professor Geoff Perry).
The Awards were founded by AUT Business School's Director of Business Relations and Executive Education, Sarah Trotman, and are now in their tenth year.
If you want to find out more about the Awards, click here and for a full list of winners click here.