Aotearoa's best research and insights agencies gathered last night at the 2023 REAWARDS in celebration of the most impactful research work in the country, both commercially and socially.
Celebrating at Mantells Tāmaki Drive, leading customer insights agency, Perceptive, won several awards, coming out with Platinum in the Financial Services category with Suncorp South Australia CTP, Platinum for its work with Xero in the Insights Communications category, Platinum with Xero in the Insights Organisation of the Year category, Platinum for Nestlé and Sapien in the Innovation category and a Gold in the Media category with DairyNZ.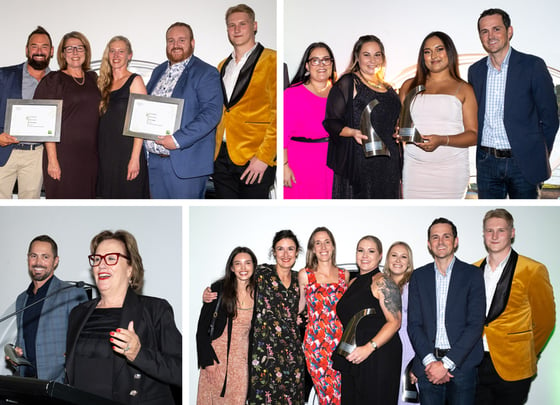 [Top left: DairyNZ and Perceptive team members receiving Gold in the Media category. Top right: Perceptive's CX Team receiving Platinum in the Financial Services category with Suncorp SA CTP. Bottom left: Sapien and Nestlé win Platinum for the Innovation Award with Vanessa Clarke from Nestlé receiving the award. Bottom right: Perceptive and Xero winning Platinum for the Insights Communication Award, received by Perceptive's Xero team.]
Reflecting on the night, which saw Perceptive win four Platinum awards and one Gold, Oliver Allen, General Manager at Perceptive, says, "The results achieved for all of our clients have been nothing short of stellar.
"The work from our partners and the Perceptive team has informed award-winning strategies, significant frontline changes and some insightful new programmes that have lifted growth and uplifted customer retention of many of our clients."
The awards, hosted every two years, are New Zealand's only research awards, recognising effective research, data and insights generation.
Daniel Shaw, Managing Director at Perceptive, says: "We're often behind the scenes of many big things our clients achieve, so every now and then, it's nice to step out and be independently recognised for our award-winning research and insights work.
"The awards achieved for our clients last night is a testament to the team's hard work and ingenuity, which I continue to draw inspiration from daily."
The full list of REAWARD winners can be found at www.researchassociation.org.nz
-ENDS-
ABOUT PERCEPTIVE: Perceptive is Australasia's leading technology-based customer insights agency. Perceptive provides research, insights and data-driven marketing programmes to a variety of organisations across the Asia-Pacific, North America, United Kingdom, United Arab Emirates and India. www.perceptive.co.nz